Local Juice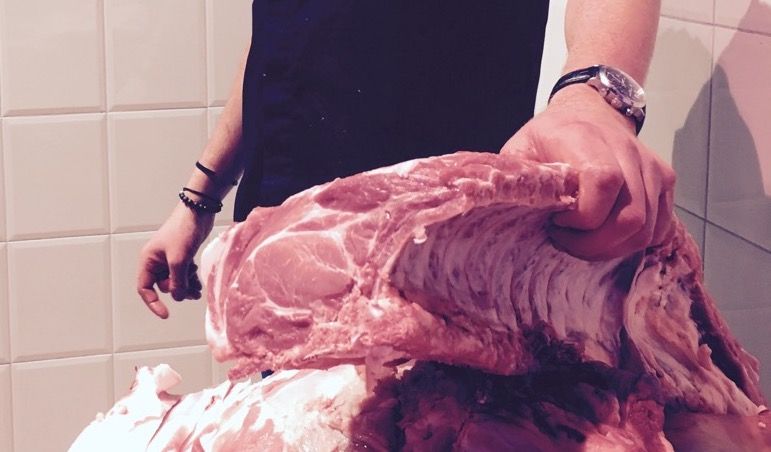 Amsterdam is bursting with energy, neighbourhoods have become crowded with new bars and restaurants, and the average quality of those is pretty high.
High-end restaurants have quite a bit of impact on the identity of a city in terms of the people it attracts, but also on the local food and drinks market. Such restaurants attract highly skilled and passionate staff, and often buy specialised products from local suppliers.
Amsterdam still hosts plenty of privately owned shops that have knowledge of their produce and work with, or are artisanal producers.
A thriving market for artisanal products is not only important because it brings us joy and great flavour, it is also the best way to counterweight the influence supermarkets have on our lives.
Last friday we joined a talented local butcher for an evening course in deboning and preparing a pig. The animal we butchered was raised in Edam. The farmer keeps maximum of 25 pigs and takes great care of his livestock: his pigs roam a couple of hectares, classical music is played in the pens, and they have a varied diet sourced at the village bakery and grocery shop that bring their unsold produce at the end of every day. The quality of the meat is out of this world and the pigs have had a life worth living.
At the end of the evening, Arend, the owner of Slagerij Ten Wolde, told us more about his experience in commercial butchery. Stories of the biggest meatfactories in Europe, the main suppliers for supermarket chains. I will not shock you by telling them here but I can tell you one thing: they are worse than you ever expected.
Of course we all know, but we have to keep reminding ourselves that if we want to keep on enjoying artisanal products made by skilled, passionate people, we have to start buying less cheap crap. Luckily there is a lot of choice and most of your favourite artisanal products are as easily available as any other online order with one of the big-ass companies out there. If you want to keep this city rich in high-end shops I suggest you put your money into what goes in your mouth.
Here are a couple of our favorites:
Slagerij Ten Wolde, 1ste Constantijn Huygenstraat
Slagerij Alain Bernard, Albert Cuypstraat
De Kaaskamer, Runstraat
Fromagerie Kef, Marnixstraat
Firma Moes, Messenslijperij, 1ste van Der Helststraat
Gebroeders Niemeijer, Nieuwedijk
Le Pompadour, Patisserie, Huidenstraat
Thulls, Fermented Foods, Pretoriusstraat