Roasted pheasant, purple sprouts, pumpkin with Barolo 2017 by Elio Altare
Roasted pheasant, purple sprouts and pumpkin with Barolo 2017 by Elio Altare

Ingredients: (6 pers)
2 whole pheasant hens
250 gr of purple sprouts (headed)
1 small butternut squash, in 2 cm cubes
1 celeriac, in 2 cm cubes
2 garlic cloves, minced
2 big white onion, minced
2 laurel leafs
2 sprigs off thyme
2 sprigs of sage
250 grams of butter in 50 gram cubes
Olive oil
Armagnac/ cognac for cooking
Ground black pepper
Maldon salt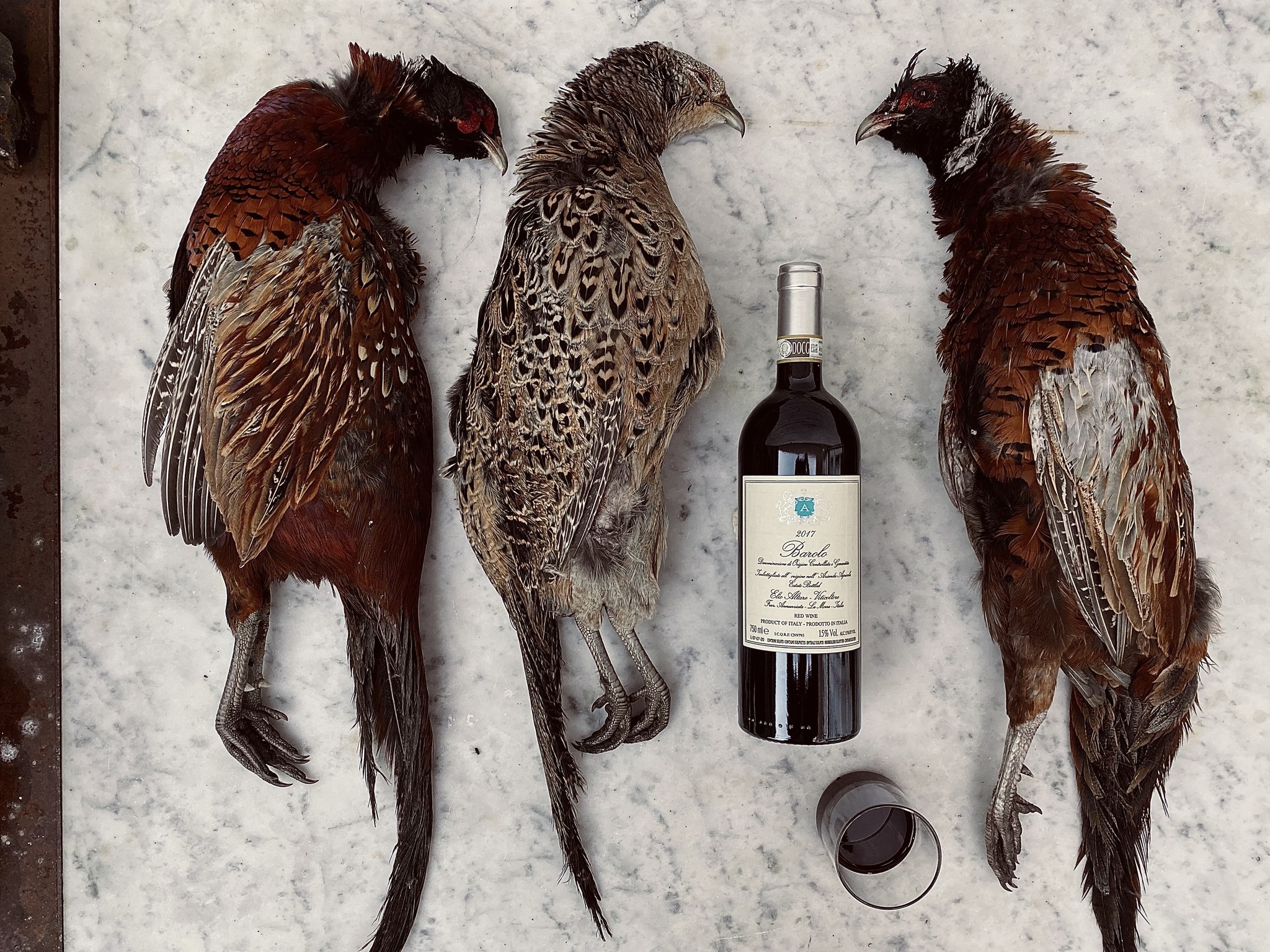 Start by preheating your oven at 200ºC and preparing the pheasants by stuffing the cavity with half of the minced onion and garlic and celeriac, place a 55 gr cube of butter in the middle and finish with laurel a sprig of thyme and sage. Generously put salt and pepper all over the birds.
Heat a large casserole with the 100 gram of butter and a splash of olive oil, add the pheasants and brown them on all sides. When browned, set them aside. Add some more olive oil if your pan is dry and add pumpkin dices and purple sprouts. Turn the vegetables around until brown and deglaze with a generous splash of Armagnac, add the pheasants and turn down the heat. Make sure the pheasants are nicely tucked into a bed of vegetables. When most of the alcohol is evaporated cover the casserole with a lid. Give the birds about 20 minutes to hit core temperature of 55ºC, remove the lid divide the remaining butter over the two birds and put the casserole into the pre heated oven until core temperature reaches 60ºC-62ºC. Take the birds out of the casserole and put away under aluminium foil for about 10 minutes. Use a slim, sharp knife to slice breast and cut out the legs and wings, check if cooked properly, the juice should be colourless. If not cooked enough put the legs back in the oven until the juices turn colourless. Serve with the vegetables and pour yourself a glass of Barolo!
Barolo 2017 by Elio Altare is one big explosion of velvetty tannins, wild blackberries, smokey nebbiolo flavours and an enourmous length.
Go for Langhe Nebbiolo 2020 by Altare if you want to opt for a more gentle and lighter version of Barolo. Same grape, younger wine, easier on the palette and your wallet.