Farinata with summer mushrooms and crispy red onion and hogweed flowers
Ingrediënts:
For the farinata:
200 grams chickpea flower
600 grams water
50 grams Extra Vergine olive oil
generous pinch of salt
For the seasoning:
200 grams of fresh chantarelles or other summer mushrooms
2 red onions, cut in rings
1 garlic clove, crushed with skin on
butter
maldon salt
ground black pepper
Kitchen utensils:
parchment paper
baking tray approximately 25 x 34cm
oven
frying pan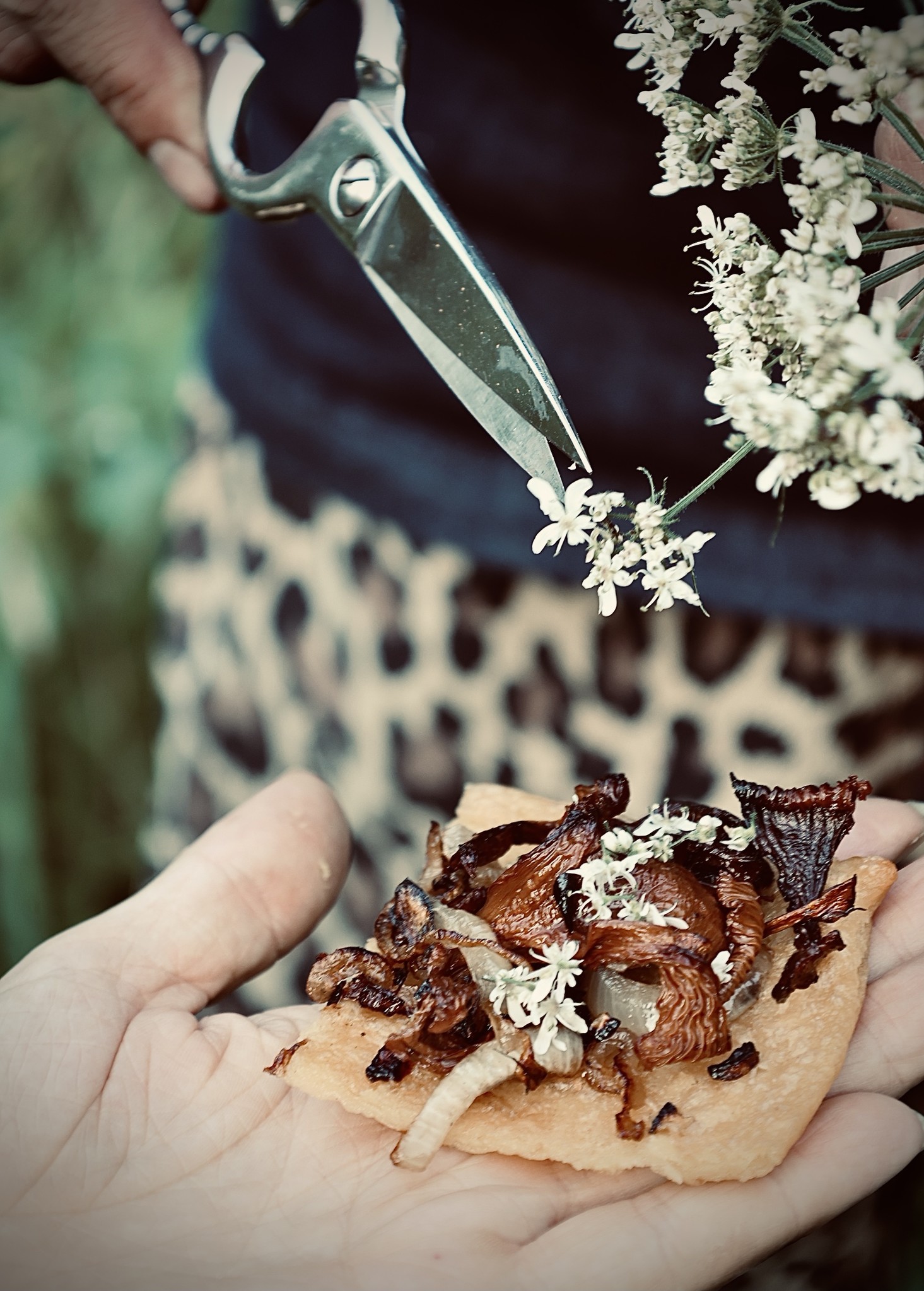 Start with preparing the batter by whisking in the water with the chickpea flower until you have a smooth batter without lumps. The batter should be very runny, let's say twice as runny as your average crêpe-batter. Set the batter aside and leave to rise for at least 2 hours (overnight is even better).
When the batter is ready to go, start with pre-heating your oven at 230C.
Scrape off the foam from the surface and discard (this makes your farinata more crispy in the oven). Add the olive oil, a generous pinch of salt and give the batter another stir.
Cover the inside of your baking tray with parchment paper, fill it up with enough olive oil to cover the bottom of the tray and place in the oven until you see the oil starts to give smoke. Take out the tray with oven gloves and fill up with the farinata batter. Be careful to hold the tray steady and not to spill the batter all over your kitchen.
Place in the oven for 30 minutes until crispy and brown.
While the farinata is getting ready in the oven you can prepare the mushrooms by frying the onion rings and the garlic clove with some butter. Get the mushrooms out, brush any soil off and tear them into bite size pieces. When the onion is getting crispy you can add the mushrooms and fry them until tender, set aside until you farinata is ready.
When the farinata is done, take it out of the oven and drizzle the mushrooms and onions equally over the farinata. We used the flowers of a hogweed plant to finish the farinata and add some freshness, you can also add some fresh herbs if you like.
Pour your party a glass of Gardelin (one of our other orange wines will of course do just fine) and indulge!