Squid with green asparagus and smashed potatoes.
Squid with green asparagus 
With powerful, elegant wines of Anguera in mind, Charlotte and I walked into the Mercat de Santa Caterina in Barcelona. We indulge in the incredible array of fresh fish and shellfish, but we only needed one thing for lunch this afternoon: fresh squid. Squid pairs well with powerful red wine. Grilling gives squid a nutty flavour that easily rivals the red wines of this region. If you cannot find squid, sepia is a good alternative.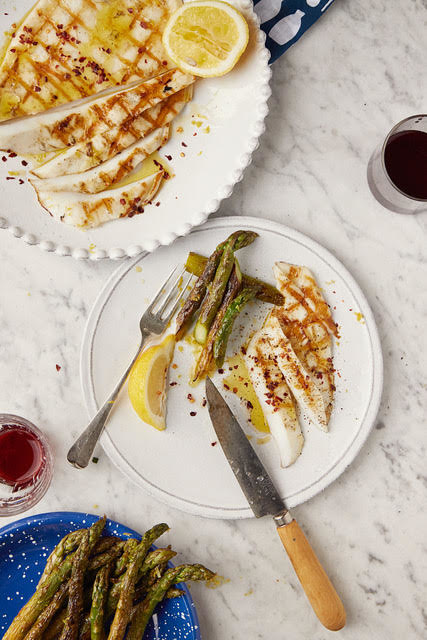 The wine match
We drank Planella by Joan d'Anguera with our squid, which is made from Carignan: a red, lush, full-bodied wine with soft tannins. White wine of a rich, minerally type or orange wine would not be out of place either, for example, a white wine from Etna or the Canary Islands. Orange wine from Friuli or Slovenia, with a subtle tannin structure and fresh acidity, should be delicious as well. 

Ingredients (serves 4 people) 
1 bunch of small green asparagus, the tip of stem removed
1 ½ kilo of squid
1 large unsprayed lemon
1 bunch of parsley, finely chopped
½ teaspoon chilli flakes
Extra virgin olive oil
Sea salt
1 bottle of Planella by Joan d'Anguera

Also required 
Grill or plancha with feet (or on a couple of stones)
A clean tea towel
Flat stone or heavy pan (to press the squid flat on the grill)
A chopping board
A sharp knife 
A grater

Preparation
While the wood turns into a glowing layer of embers, place the asparagus on the grill. They need about 10 to 15 minutes. Meanwhile, clean the squid: pull off the head and remove the chalky back sheet. If you can't pull the plate out smoothly, make an incision in the meat first. Cut open the bag lengthwise, remove the intestines and rinse under cold water. Pull the tough skin off the squid, so that only the clear bag remains. Pat it dry, brush it with olive oil and sprinkle with salt. Slather the squid on the grill and flatten it by putting a stone or heavy pan on it. Grill the squid on both sides until nicely browned and cut into strips. 

Grate the skin of the lemon. Spread the asparagus and squid on a large plate and drizzle with olive oil, lemon juice, chilli flakes and salt and distribute the lemon zest over it. Serve with the roasted potatoes (see other recipe) and sprinkle with finely chopped parsley.


Smashed and roasted potatoes 
These smashed potatoes are a simple but delicious side dish to the squid. The principle of first boiling a potato, then crushing and browning is brilliant. The cooked potato and flattened potato becomes evenly crisp and brown. The crispy edges and pieces you get from squashing them in a tea towel are irresistible. I used to make this dish in a large steel frying pan on an open fire in our farmhouse in France. But the method of the legendary Mallman - the Argentine legend on an open fire - with a tea towel is much more effective.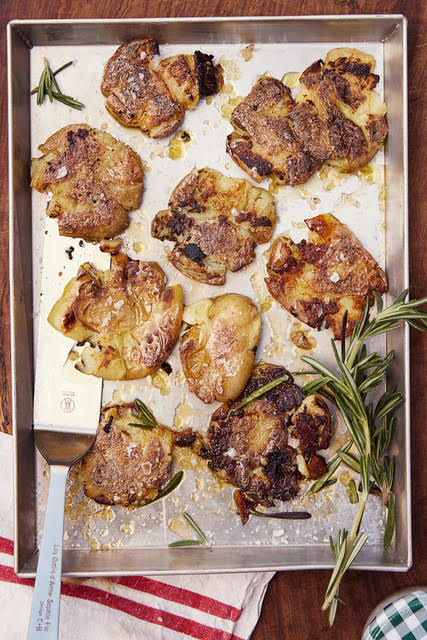 Ingredients (serves 4 people) 
1 kilo of new potatoes (preferably small and firm)
Sea salt
Butter or olive oil

Also required
Pan for boiling the potatoes 
Plancha or steel frying pan
A clean tea towel

Preparation
Light the barbecue or wood fire or use the coals from the first recipe. Put a pan of water on the grill and bring to a boil. Put the potatoes in and add a tip of salt. Cook the potatoes until your knife glides easily into them and drain. Place the potatoes one by one in the tea towel and press them flat. Slide the crushed potatoes from the tea towel on the plancha or into a boiling-hot frying pan with a drop of oil or butter. 

Roast both sides until crispy and almost dark brown, serve with your squid.