Wine and food; fried plaice in olive oil, red pepper, dill and lemon with Mersault by Jean-Marie Bouzereau
Our Meursault producer: Jean-Marie Bouzereau
We have been working with the wines of Jean-Marie Bouzereau for almost a decade now. Jean-Marie, the 10th generation winemaker in his family, makes refined whites and reds in Meursault, Puligny-Montrachet, Volnay, Pommard and Beaune.

His wines are non-filtered and elegant, the use of very few new oak barrels results in wines that are not overwhelmed by oak flavours but reflect the grape, their provenance, and the terroir.

Our favourite bottle chez Bouzereau
Jean-Marie's Meursault is one of our favourite wines, his Meursaults are well structured, with mineral, fresh acidity and deep flavours of hazelnut and brioche. The young wines are zesty and crisp, the matured bottles show more complex notes of roasted hazelnuts and almost salty minerality. We found a Meursault 2015 in the cellar which proved to be a great bottle, beautifully matured and complex.

The food match: let the wine shine
You can think of a thousand wonderful, exotic recipes that could be the perfect match with this wine. Our take on the perfect Meursault-food match would be a very basic and easy to make recipe.

Fried Plaice (Schol in Dutch) in olive oil, lemon, dill and red pepper
First, get your hands on some fresh catch of the day. Preferably a local fish, we found some nice Atlantic plaice at the local fishmonger. A sole-like fish is nice because the white meat is juicy, creamy and perfect for a fry-up in some nice green olive oil.

All you have to do is add just a few other (very nice) ingredients. Lemon, some red pepper and a big handful of dill.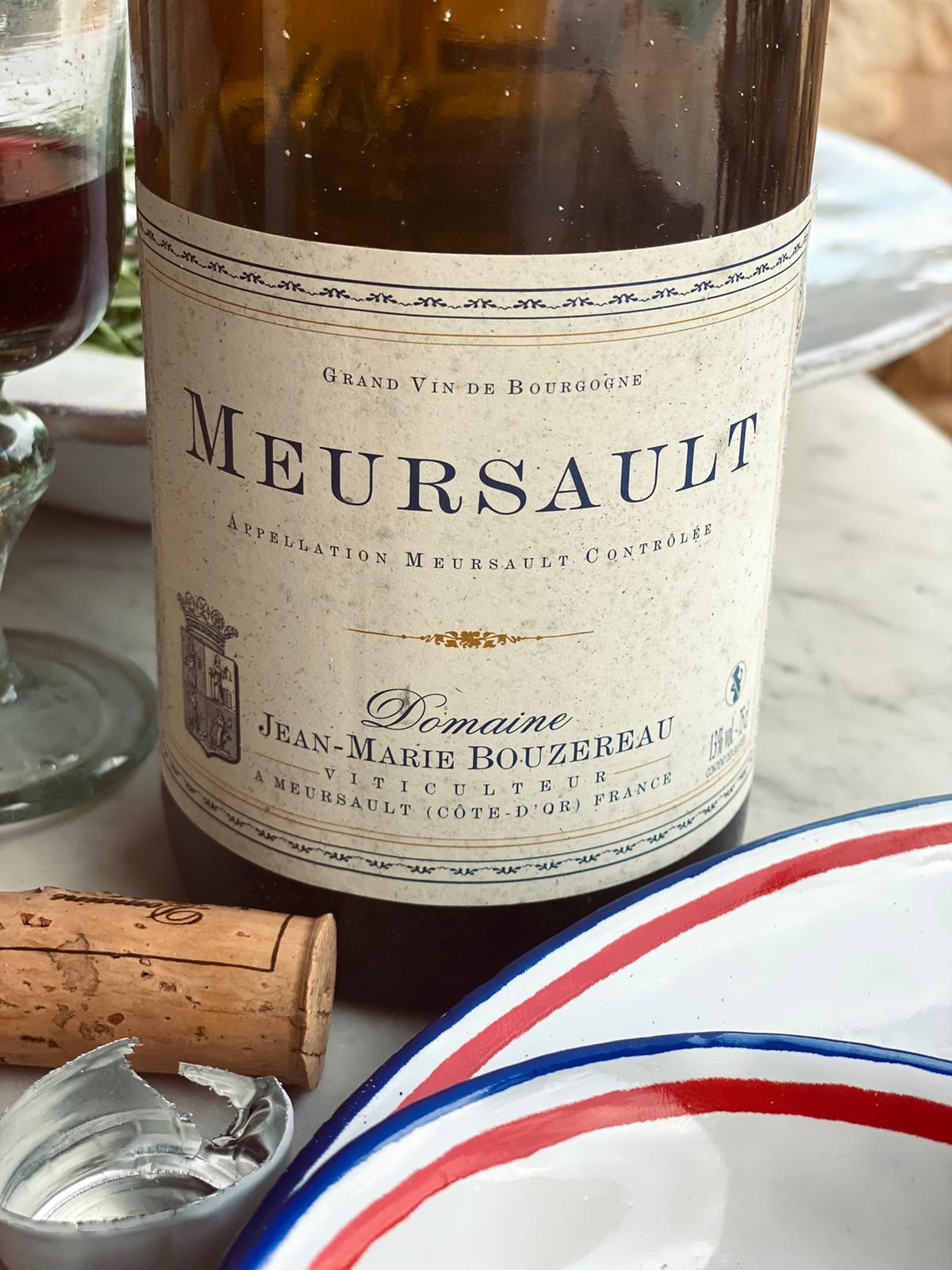 Ingredients (serves 4 people):
1 300-300gr plaice per person (gutted, skin on)
2 organic lemons (skins cleaned from any wax)
1 Red pepper (jalapeno, Madame Jeanette or bell pepper if you like it sweet)
1 handful of dill
Good quality olive oil (for baking)
Extra Vergine Olive Oil (for sauce)
Maldon Sea Salt
1 bottle of Meursault by Jean-Marie Bouzereau 

Preparation
Heat a thick-bottomed iron frying pan, add a layer of olive oil and toss the pepper in, browning it until the flavours have married with the oil, take the pepper out and set aside.

Add the plaice to the pan and fry on both sides until crisp and brown, about 4-6 minutes on each side.

Cut the dill coarsely and set it aside in a bowl. Use a Microplane to shave some lemon zest, cut up the fried pepper (no seeds allowed) and add the juice of half a lemon and a splash of the Extra Vergine olive oil to the bowl.

When your fish is ready for the feast, drizzle some of your heavenly Oil on each of them and add Maldon salt to taste.

Serve the plates, pour yourself and your friends a glass of cold Meursault (or any other white Burgundy) and indulge!
Curious about this wine? We will open some bottles to taste on Saturday the 17th of July at De Wijnwinkel!